Oh My Goodness! Did I Do That! Well, You're getting this FOUR IN ONE BUNDLE of AWESOME SAUCE to get what you need to show up in the world with what's in your hands. Look Below: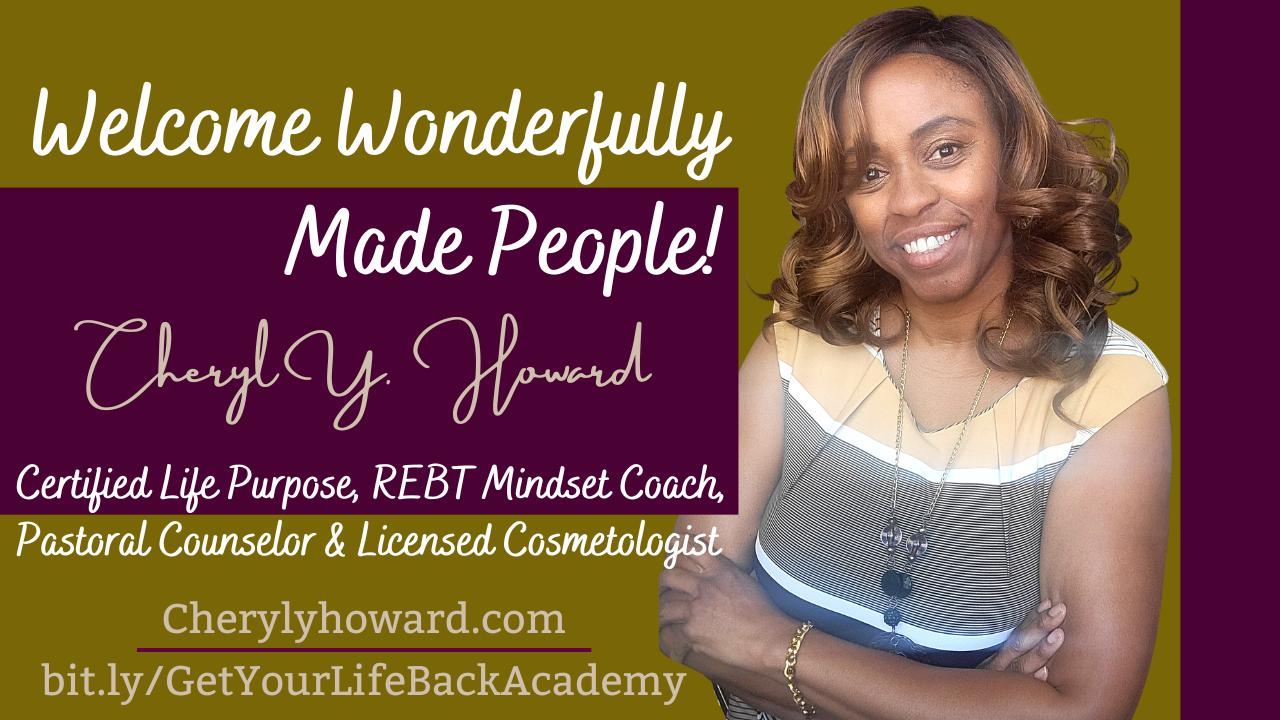 Hey Y'all! Are You Ready to Show Up?

I am Cheryl, your host and coach and right now, let's have a conversation about how you are going to start or continue, showing up in the world with all of your inner-genius and greatness.
Let's talk about how you are no longer going to be stingy with all of what you possess! How and Why? So you can operate authentically in your purpose or passion, using your gifts, skill-set, talent, knowledge, wisdom, life experience and strengths as your authentic self. You have too much inside of you to keep it all to you. It's time for you to GO from hiding TO shining. And, I am here to help you do that in my PURPOSE PASSION FINDER WORKSHOP, WAYS TO BRAND & MARKET YOUR PASSION & PURPOSE, FROM THE PAGE TO THE STAGE SUMMIT & AUTHENTICALLY BECOMING YOU eBOOK.


YOU ARE WANTED NOW!
What are you going to do about it? I'll tell you... First:

EQUIP yourself with creative, empowering and proven strategies that will show you how to put yourself on the Map FINALLY! You have been sitting on the side-lines too long. Will the REAL YOU stand out please?
This bundle was specifically designed to help YOU see your brilliance, analyze all of the wonderful abilities, insight and life experiences that are beneficial for those you are called to serve. Moreover, you may somehow ignore, brush over or don't realize how brand-worthy and marketable YOU are.
This package will also provide coaching via modern/creative methods on branding and marketing yourself, and become inspired and motivated to operate in your passion and purpose NOW.
THIS Coaching Bundle is waiting for you to take action!
I would love the honor of working with you and assisting on your journey of operating in your purpose and passion. Just remember to give me a shout out every now and then as you go to your next level, walk across the stage, at your book signing, on social media, via email or phone call. Hahaha!

Anyhow, Guess What?
I created this 4N1 "I Am A BRAND, Here I Come" coaching Bundle for my WONDERFULLY MADE PEOPLE who are still feeling stuck, sitting on their call and purpose. 
Or, perhaps, you know you are great at helping others in a particular area that you have overcome as well. 
 Honestly, even you know there's something you do as a hobby or passion, and your friends, family members have recognized it.
So, Did you ever think that you could ever do this professionally-on the regular? 
Well, this RIGHT HERE, will also show you how to pronounce yourself as the brand you are in the marketplace.
So, no more hiding, (Yep You). If you need some guidance, support and coaching on how to do all of the above, I got you! 
Or you are not sure how to brand, package and market your big idea, skill-set, ministry, knowledge, or use your story/testimony to inspire, motivate and serve others... in this digital media world we live in today, let me show how.
I want to provide you with strategies that I and so many others have used, including what I have learned from my own marketing business coach within her group coaching program and branding coaches I have worked with and continue to follow as an investment into my own entrepreneurial journey.


Summary of what you are getting:
This bundle package comes with:
A. One Coaching Workshop including a journal, coaching, a summit, testimonials and planner.
B. One Virtual Summit including goal planning sheet, and 12 speakers.
C. A downloadable Audio/Visual eBook that will help you feel more confident and encouraged to SHOW UP as your authentic-self.
D. A Masterclass including worksheets, guest speakers, and coaching.
WOW! I FEEL YOUR HELP COMING ON!


THE BUNDLE BREAKDOWN:
PURPOSE PASSION FINDER WORKSHOP: I will help you implement strategies to teach you how to identify what your passion and purpose is (your WHY).
FROM THE PAGE TO THE STAGE VIRTUAL SUMMIT: Wait till you hear all of the speaker's stories and of how they used what was in their hands to SHOW UP in the world to serve others.
WAYS TO BRAND & MARKET YOUR PASSION & PURPOSE MASTERCLASS. This will help you develop and package your personal band based on your passion, personality & strengths. You will also how to brand and market yourself online including social media (digital marketing).
AUTHENTIALLY BECOMEING YOU audio/visual eBook: So, no more procrastinating just because you don't think you're qualified or good enough? Don't you know that stepping out on faith to do what you love, what your passionate about and what you are called to do is a journey? No one knows it all in the genesis of a thing. They go and grow along the way.

The Value:

One masterclass, One Workshop, One entire virtual summit, One audio/visual eBook, worksheets, branding & marketing resources, video presentations, private Facebook Group membership, One journal, and a chance to have a coaching session with me. (Valued at $1,097-$2000) but I really want to help you get your vision and goals activated and actualized because it is my passion so RIGHT NOW, I only priced this bundle at $158. RIGHT NOW that is. So you only pay approximately 38% Off of $97 which is still a sale.
With all of that said, all you need to do is sign up!

Bundle Contents
Showcase courses, digital downloads and coaching in your Bundle.
Frequently Asked Questions
Can I get a refund if I'm unhappy with my purchase?
If you are unsatisfied with your bundle, reach out to us to see if your purchase is eligible for a refund.
As stated in Teachable's Terms of Use, Bundles that contain coaching and/or digital downloads  ARE NOT  covered by Teachable's 30-day student refund policy. As such, we highly recommend that you add your own refund policy here.
My bundle includes coaching. How do I schedule my appointment?
Upon purchasing a bundle that includes coaching, you'll receive further instructions on how to book a time for your appointment.